How you feel about your body has a lot to do with overall self-confidence.

When breast size or shape is an issue, many women turn to breast augmentation, or mammoplasty to increase breast size, improve symmetry, enhance appearance, and restore a confident self-image.
What is your reason for exploring breast surgery?
Do you want to enlarge your breasts to make your body more proportional or your breasts more balanced in size?

Is your goal to reshape and enlarge your breast because they have lost their shape due to pregnancy and breastfeeding?

As with any surgical procedure, breast augmentation can involve certain risks, including: Scar tissue formation around the area of the implant, a hard or tight feel to the breast, or deflation of the implant (all of which may require replacement or surgical removal of implants). Swelling, soreness, and increased risk of bruising, bleeding or infection has been seen in a small percentage of patients and should be noted when making decisions about having breast augmentation.

Noticeable increase or decrease in nipple and breast sensitivity may also be seen, and can be temporary or permanent. Ask your doctor about these and other concerns.

Breast augmentation is a personal decision, and should be done for you, not to meet anyone else's expectations or ideals.

The improvement from breast augmentation will be visible immediately. Results will last a long time, but the exact duration will vary depending on health changes and natural aging. Also, augmentation is not permanent; implants may need to be replaced during your lifetime. Breast augmentation patients can return to work within a few days of surgery, though they will need to avoid physical contact with the breasts for 3 to 4 weeks. Scars should fade within several months to a year.

Bangor Plastic and Hand Surgery has always been recognized in the plastic surgery community as always offering our patients the most recent and cutting edge in medical technology. Below you will find many answers to question you might have about breast augmentation. Please feel free to contact us if we have left out anything that you might have a concern about.
The Best Breast Implant Candidates
Your age and level of health play an important role in determining whether or not you are eligible for augmentation surgery.

You may be a good candidate if you are:


Healthy and at least 18 years of age (for saline implants)
Healthy and over the age 22 (for silicone gel implants)
You are NOT a good candidate at this time if you:
Have an active infection anywhere in your body
Have existing cancer or pre-cancer but have not received adequate treatment for those conditions
Are currently pregnant or breast-feeding
Other physical and emotional factors can affect your breast augmentation procedure, recovery and final result. Be prepared to discuss these topics with your surgeon:
Your overall health
Your healing capabilities and how they may be affected by smoking, alcohol and medications
Prior breast surgeries
Bleeding tendencies
Infections
Predisposition to developing a hardened capsule around the implant
Breast augmentation is usually performed as an outpatient procedure under general anesthesia, or local anesthesia with a sedative. Generally 1 to 2 hours in duration, breast augmentation surgery uses implants filled with either saline or silicone gel, available in a variety of shapes and sizes. Our skilled plastic surgeon will help you determine which type of implant is best for your goals, needs, and preferences, along with the safest surgical techniques.
Size and location of incision
Often times the incision size for a gel breast implant will be larger than the incision size of a saline breast implant.

Periareolar incision site (1) is typically well concealed, but it also involves cutting through the breast tissue, it is associated with a higher likelihood of breast feeding difficulties as compared to other incision sites. Cutting through the tissue may increase the chance that there will be a change in breast or nipple sensation.

The inframammary incision site (2) is currently the most common location for implantation of the breast implant and may cause fewer breast feeding difficulties.

Axillary incision site (3) is less concealed than the pariareolar site and may cause fewer breast feeding difficulties.

Breast Implant Placement
The breast implant can be placed either partially under the pectoralis major muscle (submuscular) or on the top of the muscle and under the breast gland (subglandular). Your surgeon will recommend the approach best-suited to your body type and goals.
Sizing your breast implant
During your office consultation, your surgeon may use different tools to help you select the right product for your new look. We use the Mentor Volume Sizing System in conjunction with your precise body measurements. Our prosthetic sizing devices are uniquely designed to be placed onto your breast to create a realistic preview of your new size.
Implant Types
Round or Shaped? Gel or Saline? Smooth or Textured?
There are three basic types of implants: round gel, shaped gel and saline filled. In addition to shape, breast implants are available in two shell surfaces, smooth and textured. Profile refers to the amount of forward projection of the implant off the chest wall. The higher profile implants create a more prominent silhouette than a lower profile implant.


Shaped Silicone Gel Implants
Why choose MENTOR® MemoryShape® Breast Implants?
MENTOR® MemoryShape® Breast Implants proprietary cohesive gel holds together uniformly, while providing a natural silhouette (shape) and youthful feel (firmness). Unlike round breast implants, MENTOR® MemoryShape® Breast Implants are teardrop shaped, meaning they're thinner at the top and gently slope to a fuller projection point near the implants base to mimic the silhouette of a natural breast.

Clinical data reveals MENTOR® MemoryShape® Breast Implants have the lowest reported incidence of key complications in primary augmentation at 10 years. You can also get the peace of mind you deserve knowing that MENTOR® MemoryShape® Breast Implants are covered by the most comprehensive warranty in the market.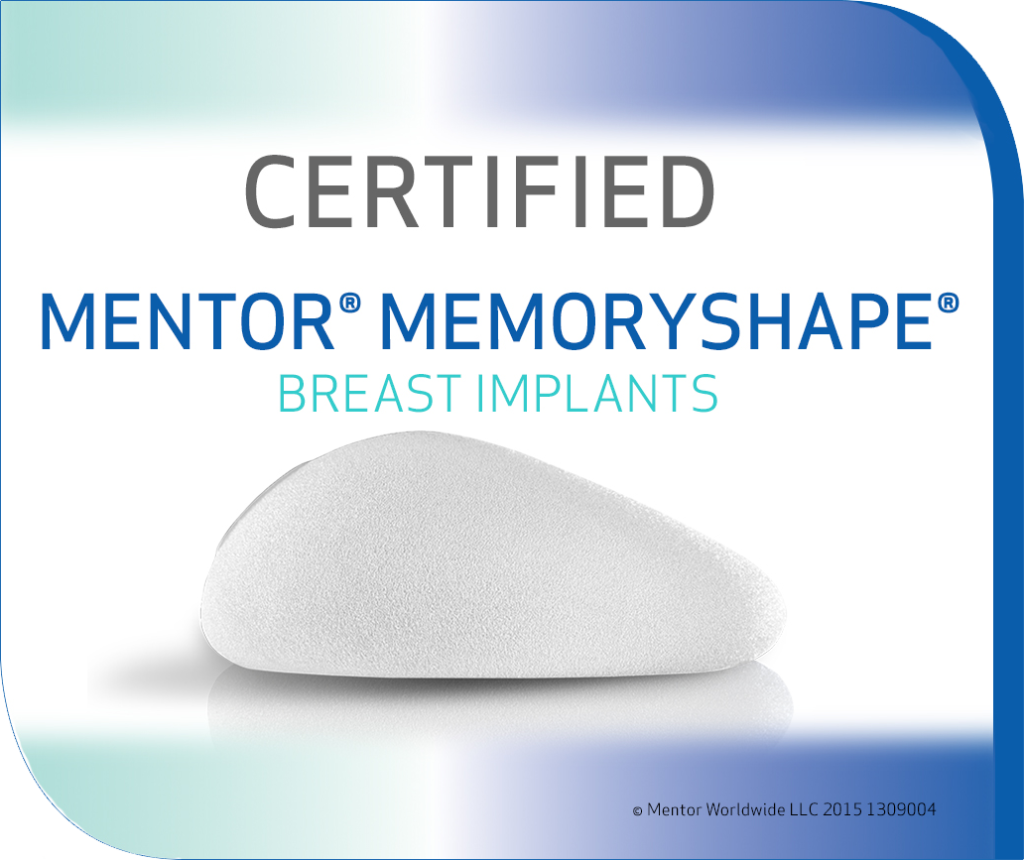 Round Silicone Gel Implants
Our round silicone gel implants are also available as MENTOR® MemoryGel® Breast Implants and are available with either a textured or smooth surface shell. These implants are filled with a proprietary softer cohesive gel that resembles the natural feel of breast tissue. They come in a wide range of sizes and profiles to fit your body.
Saline filled implants are filled with a saltwater solution similar to the fluid that makes up most of the human body. Saline implants are inserted without fluid. Once placed, the implant is filled to the predetermined size. They have a slightly firmer feel than gel implants. They are available in round and shaped, smooth and textured surfaces and are available in a full range of sizes and profiles to fit your body-each with a revolutionary self-sealing valve.
Contact Bangor Plastic and Hand Surgery today for more information or to set up a consultation with our board-certified plastic surgeon.
Bilateral Breast Augmentation
Age: 30
Weight: 125
Height: 5ft 4in
Pre Surgery size: 34A
Post Surgery size: 34C
Volume: 300cc
Profile: Smooth Round Moderate Plus Gel
Bilateral Breast Augment with areolar reduction
Age: 42
Weight: 135
Height: 5ft 9in
Pre Surgery size: 36B
Post Surgery size: 36D
Volume: 350CC
Profile: Smooth Round Moderate Plus Gel
Bilateral Breast Augmentation
Age: 30
Weight: 117
Height: 4ft 11in
Pre Surgery size: 34A
Post Surgery size: 34C
Volume: 375CC
Profile: Smooth Round Moderate Plus Gel
Bilateral Breast Augmentation
Age: 30
Weight: 120
Height: 5ft 5in
Pre Surgery size: 34A
Post Surgery size: 34C
Volume: 300CC
Profile: Smooth Round Moderate Plus Gel
Bilateral Breast Augmentation
Age: 29
Weight: 160
Height: 5ft 6in
Pre Surgery size: 34A
Post Surgery size: 34C
Volume: 375cc
Profile: Smooth Round Moderate Plus Gel
Bilateral Breast Augmentation
Age: 30
Weight: 126
Height: 5ft 5in
Implant Volume: 425cc
Profile: Smooth Round Moderate Plus Memory Gel
Bilateral Breast Augmentation
Age: 27
Weight: 124
Height: 5ft 4in
Pre Surgery size: 34A
Implant Volume: 350cc
Profile: Smooth Round Moderate Plus Gel
Bilateral Breast Augmentation
Age: 36
Weight: 115
Height: 5ft 3in
Pre Surgery size: 34A
Post Surgery size: 34DD
Volume: 450CC
Profile: Smooth Round Moderate Plus Gel
Bilateral Breast Augmentation
Age: 26
Weight: 160
Height: 5ft 5in
Pre Surgery size: 34A
Post Surgery size: 34D
Volume: 390CC
Profile: Smooth Round Moderate Plus Saline
Bilateral Breast Augmentation
Age: 30
Weight: 145
Height: 5ft 8in
Pre Surgery size: 36 A
Post Surgery size: 36 C/D
Volume: 375CC
Profile: Smooth Round Moderate Plus Gel
Bilateral Breast Augmentation
Age: 34
Weight: 120
Height: 5ft 4in
Pre Surgery size: 34A
Post Surgery size: 34C
Volume: 425CC
Profile: Smooth Round Moderate Plus Gel
Bilateral Breast Augmentation
Age: 27
Weight: 128
Height: 5ft 2in
Pre-Surgery size: 36A
Volume: 325cc
Profile: Smooth Round Moderate Plus Gel